An Interview with
Minji Sohn.

Where are you from?

I am a Korean artist currently living and working in the Bay Area. I was born in Japan, grew up in Korea and Canada, then I came to the U.S. 8 years ago.
What inspires you ?
I am inspired by things that I find sad such as: farewells, self-help books, social and familial obligations, barriers and miscommunications between people, uncertainties that lie in the future and the present, white supremacy, heteronormativity, and the ways these large social structures infiltrate into my mundane everyday life such as being cat-called on the way to the supermarket, noticing time passing by days, months, seasons, or years, spiritual beliefs and organized religions, ghostly matters and the various ways I live around them, being overwhelmed in nature or building forests, and my daily interaction with others or my avoidance thereof. I am also inspired by numbers, my own or others' obsessive-compulsive behaviors, video games, Pop and internet culture, children's activities and movies, and office people, spaces, and supplies.
How did you get into art?

I never dreamed of being an artist while growing up, especially because I did not enjoy drawing; and at the time that was the only form of art that I knew of. It was a series of unexpected events that brought me to the School of the Art Institute of Chicago for my undergraduate degree, but when I got there I immediately knew that this was the place I wanted to be. Art school felt utopian in a way that I have never experienced anywhere else; it was where you can make, say, do, and be anything and it could never be weird enough. Alternately, however, core qualities of my current art practice do have deeper roots. Since I was a toddler I was consistently evidenced to be partaking in various obsessive, repetitious, and anti-social activities.
For example, as far back as I can remember, I have always habitually written something repetitively on paper and then destroyed it to the point of complete erasure, which resemble the processes of many of my works. I specifically focused on drawing connections between these early memories and my present practice in my exhibition Again, and Again, and Again at Aggregate Space Gallery where I reinterpreted scenes from my childhood to inspire two installations and performances.
What's your favorite song?

'Good Women' by Paul Thomas Saunders feels special to me because it is what I listened to on repeat, around 180 times, while I was bowing 3000 times for the piece 3000 Bows, and I appreciate that whenever I listen to this song now it always reminds me of my experience during that time. I listen to a lot of old-school, depressing Korean indie music such as Donawhale, Jelly Boy, Zitten, and Fanny Fink, but I also enjoy things like top 100 EDM.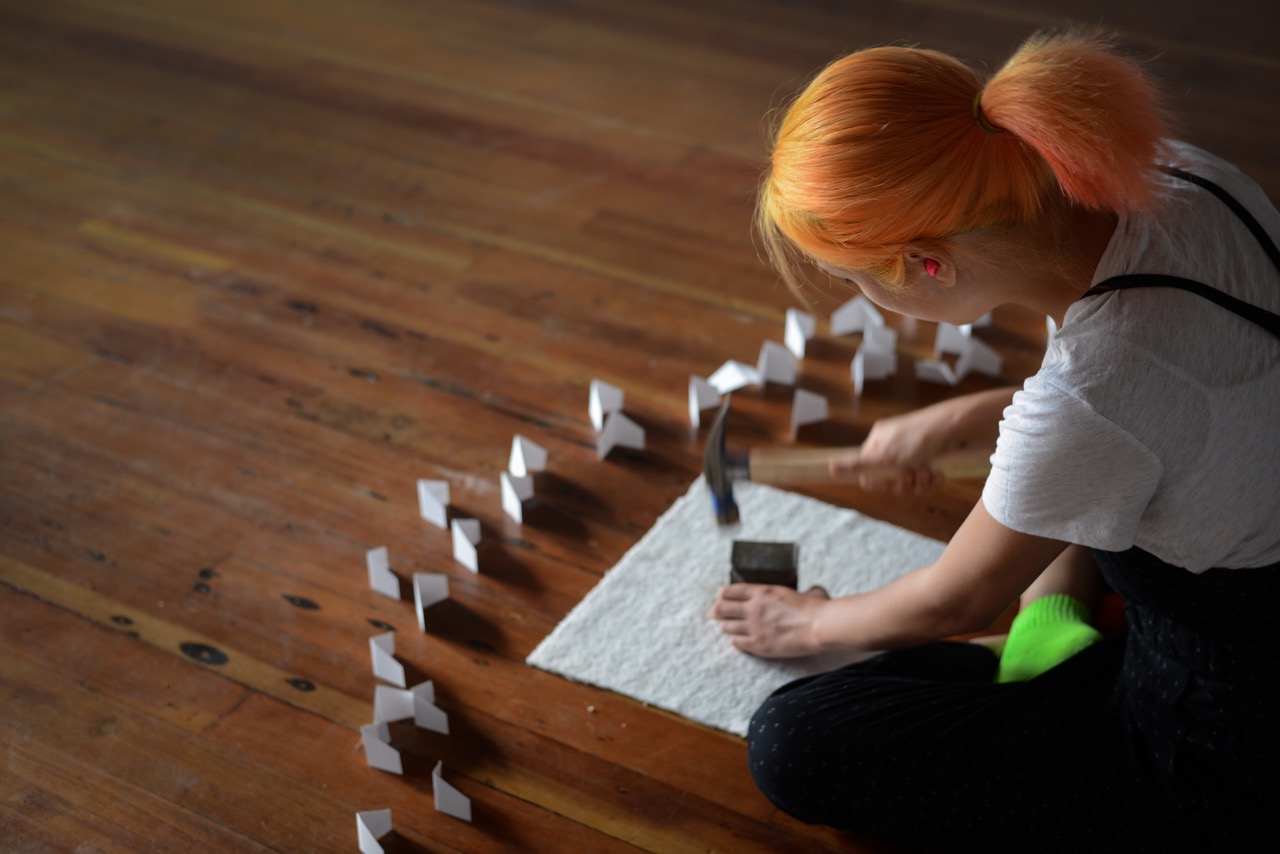 What's next for Minji?
After graduating from the M.F.A. program at California College of the Arts last May I spent the year in Oakland, putting together performances for different exhibitions and events around the Bay Area. I had my first two solo shows, and I performed on the street, on a stage, on a curator's bed, on the stairs, and on piles of sand and books. During this very exciting and a little bit stressful past year I also had the chance to think more about what kind of life I wanted for myself. This June I am going back to Korea for good; I was educated in North America for the last 14 years, so this will definitely be a big change. Where I will be moving to is called Jeju Island, a unique, remarkable place with a sad history, beautiful four seasons, and endless fields of silver grass and orange farms. I am excited to see how this move could influence my art practice; I plan to continue my performative work but also go back to experimenting with 2D-based media, and I hope to draw a lot of inspirations from my new surroundings. My last performance in the U.S. before I leave will be on May 26th, as a part of the Artists Drawing Club series at the Asian Art Museum. The Asian Art Museum is also organizing a group exhibition coming up in the fall of 2017 at Mills College, so I will be back here in a year again to install and perform!
artwork by
@minjisohn
What do you want your audience to get
from your work?
It is important for me that my next performance represents what I feel inclined to do in that particular moment, and to think about any specific event or concern in my personal life that I want to process through this piece. In this way I tend to worry more about my own relationship with the piece rather than with the audience, because most likely I will the only one who has to sit through, and act out the piece for the whole 24 hours, versus others who may come by and view it for only 5 minutes. I would never expect the audience to experience my work exactly as I experience it, and I think each person can, and should have a different interpretation of the same work. However, there are moments during my performances where I feel as if a strong connection has been made between me and a specific audience member, mostly because of their patient, prolonged presence. It means the world to me that they can relate to this piece in whatever way that is their own, and this gives me a lot of strength to keep going.
What's your advice to younger artists?
(1) Sadly, being an artist is not necessarily a job, meaning most likely it will not fully pay for your rent or food. Find a way to financially support your life and art practice so that you can make art sustainably, and with artistic freedom and independence. (2) Building good relationships with artists and curators around you seems to be important. 9 out of 10 opportunities I have gotten in the last year came from teachers and students I had met during school who remembered my work and invited me to perform when the right opportunity arose where they saw my work fit. (3) However, based on my lack of networking skills, my social awkwardness and burned bridges, I believe that as long as you are patient and continue to spend time in the studio to produce art, while making your effort known to other people in any way at the same time, some day someone will connect with you. (4) Letter From Sol LeWitt to Eva Hesse had motivated and encouraged countless artists early in their careers.